Previous Functions
Twenty Third Annual Fund Raising Dinner – October 2010
The Arab Women's Association had its Twenty Third Annual Fund Raising Dinner on Friday the 15th of October 2010 at the Jumeirah Carlton Tower. The evening was a success as the AWA hosted over 200 guests. We are proud to announce that Ms Haneen Zoabi MK, the first Palestinian woman to be elected for an Arab party list National Democratic Assembley, flew a long way to be our Guest Speaker for the evening. Her informal speech was superb; it was certainly a topic of conversation for weeks after the event. We hereby record our formal thanks to Ms Zoabi and wish her the best for all the good work that she does.
We are indeed grateful for the support we received from The Rt.Hon. Mr Nick Clegg MP The Leader of the Liberal Democrats and Deputy Prime Minister. He sent the AWA a word of support which was read in absentia by Mr Fiyaz Mughal OBE FCMI who is the Founder and Director of Faith Matters. Mr Mughal delivered Mr Clegg's message to the AWA passionately and yet professionally after which he added a relatively moving speech of his own addressed to the AWA. We take this opportunity to express our gratitude to The Rt Hon Mr Nick Clegg for his support and Mr Fiyaz Mughal for his presence both of which were rather meaningful to our guests.
We forward our sincere thanks to Mrs Reem Kelani for donating her time and talent to produce and direct the cultural and musical programme which was both entertaining and educational and certainly different to programmes previously produced for AWA's annual dinners. We also thank Mr Christopher Somes-Charlton for his assistance in coordinating the show.
We further thank Ms Selwa Kazwini for accepting to be our Master of Ceremony for the evening. She presented both the AWA and the above mentioned programme so professionally. Selwas time and flair were also donated for the charitable work of the AWA. Thank you Selwa.
We record our sincere gratitude to Noelli's,of London for creating and donating all the table decoration, this year. Also we thank our new Banqueting Manager Mr Jason Kitt of the Jumeirah Carlton Tower for the exclusive customer service we received.
Finally, may we address each and every sponsor and donor who generously contributed towards the cost of the event and those who kindly purchased tables of ten. Thank you all. Amongst these individuals are:
Sponsors
A sponsor who prefers to remain anonymous, but, contributes rather generously towards every annual dinner
Mr and Mrs Walid Abu Saud
Mr and Mrs Ayman Asfari
Mr and Mrs Amjad Bseisso
Dr and Mrs Ramzi Dalloul
EuropeArab Bank
Mrs Saada Fakhry
Mr and Mrs Amjad Habbas
Mrs Khalida Habbas
Mrs Rola Al-Jameel
Mr and Mrs Jihad Khazen
Miss Annal El-Khazen
Dr. Makram Machool Khoury
Mr and Mrs Abdul Mohsen Al Qattan
Mr and Mrs Sami Sidawi
Tables of Ten
Mr Mahmoud Agha of Arab Cargo
Mr Hazem Ben Gacem
Mr and Mrs M Fustok
Mr and Mrs Wael Khoury
Mr and Mrs Munib Masri
Royal Embassy of Saudi Arabia
Donors
Mr and Mrs Bassam Abu Khater
Mr and Mrs Shafic Ali
Mr and Mrs Abdulla Ismail
Ms Patricia Mantoura
Mr Antoine Raffoule
Mr Gordon Weiss
The AWA offers a massive thank you to all businesses and individuals who contributed towards the Lottery Draw especially:
Congratulations to all winners
Chanel
Gulf Air
Hala Magazine
Al-Hayat News Paper
Royal Jordanian Airline
Jumeirh Carlton Tower
Maramia Restaurant
The Mathaf Gallery
Nadi Antique
Penhaligon of Regent Street
Al-Quds Newspaper
The Refinery
Russel and Bromley
Dr Dina El-Sioufi
Toto's Restaurant
AWA Benefit Lunch hosted by Mrs Dalal Al-Duwaisan – June 2010
Once again this year, Mrs Dalal Al-Duwaisan the wife of His Excellency Mr Khaled Al-Duwaisan the ambassador of the state of Kuwait, kindly offered to host a lunch for the benefit of the AWA, on the 10th of June 2010, at their elegant residence at: 22 Kensington Palace Gardens London W8.
The event was a great success as we raised a net amount of approximately andpound;7,000.
We take this opportunity to thank Mrs Al-Duwaisn for her continued support to our charity work and for her generosity in preparing the most tasteful menus and creating the most outstanding ambiance for our guests whom she genuinely treats as her own.
We express our sincere gratitude to all those who contributed towards the event.
Let Gaza Live! 2009
We held an evening of culture in support of Gaza on Friday 9th October 2009 where all proceeds were donated to the Red Crescent Society for the Gaza Strip and the Arab Women's Association Fund for Gaza. The event was held at the Royal Geographical Society at 1 Kensington Gore, London SW7 2AR.
The event was a great success as we raised a net amount of approximately £9,500. We would like to give special thanks to Mrs Reem Kelani who wholeheartedly donated her time and talent to produce the programme for the benefit of the AWA. We would further like to thank Mr Christopher Somes-Charlton for his concerted contribution towards the production of the show.
Our sincere thanks also go to Ms Victoria Brittain who volunteered to be Master of Ceremony for the evening. The event was presented so professionally, thanks to you Victoria.
We must also thank Mr Corin Redgrave and Mrs Kika Markham for agreeing to participate in the show as our special guests.
We offer special thanks to each of the performers listed below as they also donated their time and talent for our benefit; this is greatly appreciated not only by the AWA but by every child and every family in Gaza benefiting from their kindness and generosity.
Reem Kelani – Songs from Palestine
Corin Redgrave and Kika Markham – Ghassan Kanafani's letter from Gaza
Victoria Brittain – Compandeacute;re
Shelagh Weir – Textiles, Costumes and Embroidery of the Gaza area
Joanna Blythman – Food and Palestine
Garth Hewitt – The Broken Heart of Gaza
Leon Rosselsson – Song of the Olive Tree
Camilla Saunders – "unbinding" – Piano for Gaza
Bill and Alfie Horrocks – In memory of Iman from Gaza
Basma Ghalayini – Report from Gaza by Dr Mona El-Farra, Siege and Survival
We further thank each of the following for contributing greatly towards the success of the evening.
Martial Kurtz of the Palestinian Solidarity Campaign PSC
Denise Prior of the Royal Geographical Society RGS
Christoper Somes-Charlton – Production Coordination
Catherine Higgins – Hospitality
Emily Wright – Stage Management
Omar Nasser – Control Room
Laila Younes – Front of House andamp;Volunteer Liaison
Steve Quinton – Technical Support
Saeed Taji Farouky – Technical assistance
Sunbal Ahmad – Usher
Nejood Jafaar – Usher
Nadene Farage – Usher
We express our sincere gratitude to all those who donated generously towards the costs of evening.
And finally we take this opportunity to thank Mrs Reem Kelani one last time for organising and producing the programme. Without her, none of the above would have been possible. On behalf of every child and every family in Gaza benefiting from the proceeds of this event we thank Reem for her generosity and good work.
Iftar Ramadan 2009
Our Iftar Ramadan 2009 was held on Sunday the 13th of September at Noura Restaurant at 16 Hobart Place, Belgravia, London SW1. Amongst our guests were H E Mrs Hamida Mrabet Labidi the Tunisian Ambassador and Mr Kamal Labidi, H E Professor Emanuel Hasassian the Palestinian General Delegate to the United Kingdom andamp: Mrs Samira Hasassian andamp: H E Mr Afif Safieh the Roving Ambassador for Special Mission andamp: Mrs Crystal Safieh. The event was a great success as all guests seemed to have enjoyed their evening and the AWA raised approximately andpound;12,000 (gross). The net proceeds will be sent to each of Jerusalem, Gaza and the camps in Lebanon. We are indeed grateful to all those who attended the Iftar and/or contributed towards the event. Furthermore, we record our special thanks to the management team at Noura Restaurant, in particular Mr Shaheen Al-Khoury who offered us an excellent customer service and delicious food. Attached are some pictures of the evening for your browsing.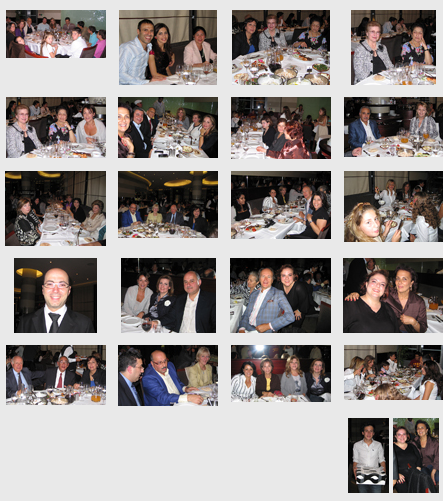 Summer Lunch 2009
Our lunch of the 15th of June 2009 which was by kind invitation of H E Mr Khaled Al- Duwaisan the ambassador of the state of Kuwait and Mrs Dalal Al Duwaisan at their residence, was a great success.We take this opportunity to thank our host and hostess for their generosity and support. The food was delicious and the dandeacute;cor was beautiful, but, yet this has always been Mrs Al-Duwaisanandrsquo;s style. We thank every one of you who attended the event and helped us to make a success out of it. Your support is much appreciated. Here are few pictures taken the day of the event.